Home
Columbia-Willamette Faceters' Guild
The CWFG is a nonprofit organization located in Portland, Oregon and dedicated to the advancement of faceting gemstones through education. We are a diversified mix of Master cutters, professional members and hobbyists. The guild provides the educational and personal assistance for the Novice and Advanced craftsman. See Join CWFG above for information on meetings (visitors always welcome).
The Guild sponsors faceting classes, monthly seminars, workshops, competitions and awards of merit, all to support and promote the standards of faceting excellence. Visit Events and Classes for more info and see  the Meeting Schedule for details on upcoming meetings and things you may have missed.
Facilities, educational programs, and activities of the Guild are financed primarily through membership dues, faceting class fees, participation in the Portland Regional Gem and Mineral Show, and by the CWFG Annual Gem Auction.
The Guild has developed an extensive lending library of periodicals, video tapes, and reference books on Faceting, Gemology and Mineralogy. The Guild also has gem testing instruments to aid the scientific needs of our faceters.
We encourage all members to generously share their time and experience to make our Guild activities the best they can be! If you have any suggestions, corrections, or experience broken links, please send a message to any of the officers via our contact page.
News! News! News!
The Meieran Trilliant Gem Collection Debuts at Rice NW Museum June 22, 2019
An extraordinary collection of more than one hundred gemstones will be on exhibit at the Rice Museum beginning June 22, 2019. These gems, which are part of the Meieran family collection, were recently on exhibit at the Gemological Institute of America (GIA).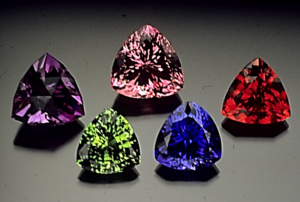 The collection consists of a large assortment of faceted gemstones, all in some variation of the triangular, brilliant cut – hence the name, Trilliant. In addition to quartz, aquamarine, and sapphire, there is a giant 136-carat amethyst from Brazil, an 81-carat fluorite from Morocco, an interesting peridot from Pakistan, and rare orange clinohumite from Afghanistan. There are 132 specimens in total, comprising around 30 mineral species, from over 28 countries, collected over the last 30 years.
According to GemSelect.com, the trilliant cut was introduced by the Asscher brothers in Amsterdam and was later trademarked by the Henry Meyer Diamond Company of New York in 1962. Now that the patent has expired, the term "trilliant cut" is used to refer to all triangular shaped gems, even step-cut and cabochon stones.
Most often made with either 31 or 50 facets, a trilliant-cut gemstone is usually shaped with equivalent sides featuring straight edges, though a curved version is sometimes used. When cut to the correct depth, these stone often display excellent fire, and are frequently used as accent stones. A large one makes for a beautiful central stone.
About the Collector
Gene Meieran has been an active mineral collection for decades. Although he doesn't get out to field-collect like he used to, he can always be counted on to have a specimen of something in his pocket. This particular part of his overall collection is co-owned by Gene with his wife Roz and his daughter Sharon.
Gene started collecting rocks and minerals at 12 years old, beginning with specimens from Norway. His collecting interests evolved from a general scientific species approach to a specialization in high-quality single crystal gem species and native element crystals. His professional career as a materials scientist arose from his interest in mineralogy; he analyzed and characterized single and polycrystalline semiconductor device materials, using X-ray and electron diffraction technology. He was a key contributor in the early years in Silicon Valley, working at Fairchild Semiconductor, and later Intel; one of his favorite memories there was working on the launch of the Apollo 12 lunar mission, in October 1969, just after the successful landing on the Moon in July.
Gene explained recently that he started his trilliant collection by purchasing a beautiful 20-carat tanzanite from the Merelani District of Tanzania, along with a large natural single crystal. His scientific specimens, he admits, "were interesting, but became boring." The rocks were gray, black, amorphous – representative of all the borates and chlorides and oxides and sulphides he could find, but not visually appealing. His friends convinced him to focus more, and he chose to concentrate on the perfection of single crystal gemstones.
Gene says he has never faceted his own gems, and he leaves it to professionals to clean and trim his specimens. He uses well-known mineral dealers to add new trilliants, and he credits in particular Mark Gronlund, Wayne Thompson and Bill Barker with getting him involved. He recalls fondly a collecting trip to Africa with Bill and Wayne to find crystals. Still actively collecting, Gene was back in Tucson in 2019, looking for a nice Oregon sunstone "trill", but he ended up settling for a stunning colorless fluorite.
About the Trilliant Cut
Sometimes referred to as the Trillion or Trielle cut, the trilliant cut originated well after diamonds became popular gemstones. As far back as the 1400s, diamonds became popular as ornaments in jewelry. Amsterdam became a center of the diamond trade in 1727 as discoveries in Brazil made their way from the New World, and faceters soon began experimenting.
There are at least a dozen different leading cuts for gemstones; important cuts include Round, Princess, Cushion, Emerald, Oval, Radiant, Asscher, Marquise, Heart, and Pear. The modern triangular cut was designed by the Henry Meyer Diamond Company of New York in 1962. Today, Trilliant-cut gemstones are triangular shaped stones that are usually faceted based on the brilliant cut, hence the name. The basic trilliant design has 43 facets, but modern variations may have 50 or more facets. Due to their equilateral form, trilliants return substantial light and color to the eye. Trilliants are considered nearly as brilliant as round cuts, so are a good choice for buyers who like brilliance but want something other than round.
Trilliants work very well with light-colored gems – such as diamond, aquamarine, beryl and white sapphire – where cutters try to maximize brilliance. Some cutters use trilliants effectively to lighten and brighten the appearance of darker stones such as tanzanite, spessartite garnet, rhodolite garnet and amethyst gems.
Softer minerals such as apatite are rarely used for trilliants unless the corners are rounded. The tips and culets of trilliants are pointed and thin, making them vulnerable to breakage. Some jewelers bezel-set trilliants, since prongs that protect tips work well and show more of the stone.
Trilliants are almost always cut with a 1:1 length to width ratio. But there are some variations in shape, including rounded-corner triangles, straight sides and curved sides. Trilliants with straight sides are usually used for side stones in a setting, while stones with slightly curved sides are used for center stones or solitaires. Modified trilliants with different proportions, usually isosceles rather than equilateral triangles, also exist. A three-sided shape which is not at least an isosceles triangle would be called a fancy shape rather than a trilliant. As a matter of conformity, Gene only collects equilaterally shaped trilliants.

Watch this space for guild volunteer opportunities!