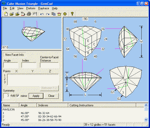 GemCad Software
There are a few software programs of use to faceters. The first that comes to mind is GemCad, developed by Robert Strickland. According to GemCad.com, "Gemcad is a computer-aided design (CAD) program for faceted gemstones. It runs under Windows 95 or later on PC compatibles with screen resolution of at least 800 x 600." Note, it will also run on a Mac using Parallels or other software enabling you to run Windows software.
Strickland goes on to say, "GemCad simulates a faceting machine and shows you accurate 3-D views of the stone. GemCad understands symmetry, so you typically have to "cut" only a fraction of the facets to get the full design. GemCad can follow paths of light rays through the stone to allow you to optimize a design to minimize light loss. The end product is an accurate faceting diagram that shows several views of the stone with accurate angles, indexes and dimensions. At Gemcad.com you"ll also find links to the Datavue 2 database of faceting designs.
The DOS versions of GemCad and GemRay software and documentation are now free. So if you"ve got an older Windows machine, grab a copy and get designing!
Gemology Tools is a complete gemology software reference. They say, "If you do jewelry appraisals, work with gemstones in any fashion or just love gems then Gemology Tools Professional is a must have. Time is money and Gemology Tools Professional saves you time. Visit Gemology Tools for more info. DiamCalc is another program that displays a simulation of a cut stone. It is used by diamond cutters and sellers because no photograph can show the beauty of a diamond.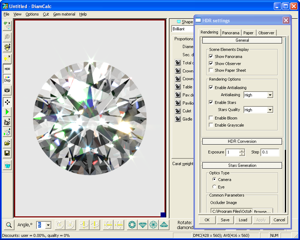 DiamCalc Software